Indigo – Swegon's new heat pump
WORLD – Swegon have released their new Indigo reversible air/water heat pump which has been designed for use in demanding climates. Swegon claim that the heat pump has very wide operating limits which allow it to operate for external air temperatures as low as -23°C.
The Indigo air/water heat pump has been awarded a very high energy class certificate due to its inverter controlled compressor, wide heat exchanger surface and electronic expansion valve.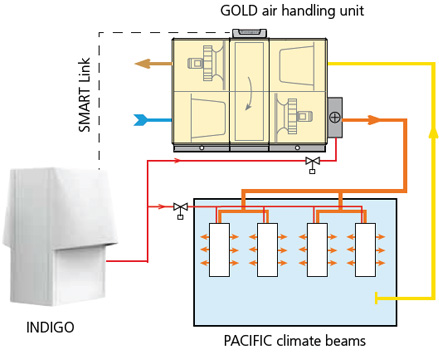 The company state that the Indigo heat pump can be applied in small commercial air condition applications in conjunction with Gold air handling unit and climate beams. The heat pump provides the Gold air handling unit's heating coil with warm water and can also be used to provide the climate beams with warm water via the Gold All Year Comfort function, which is used to control the heating- and cooling circuits.
Swegon claim that the Indigo heat pump can be used in reversible mode in summer time to produce chilled water, while it can also be used in residential buildings for heating systems with floor heating or radiators and also to produce domestic hot water. The Indigo air/water heat pump is controlled using the Gold control system via Smart Link.