MHI to collaborate with Atlantic Group
FRANCE – Mitsubishi Heavy Industries (MHI) have today announced that they have concluded an agreement with Atlantic Group, a leading French manufacturer of air-conditioning systems and electric water heaters, to collaborate together in marketing MHI's "Q-ton," a commercial-use heat pump water heater using carbon dioxide (CO2) as a natural refrigerant, throughout France. The two companies have stated that their collaboration aims to take advantage of the Atlantic Group's extensive sales network in France and strong brand recognition to help accelerate sales growth of the Q-ton. The Q-ton is a system that MHI claims will help bring about reductions in running costs while also offering environmental compatibility and dependable usage for ambient temperatures as low as -25°C.
The terms of this new deal on sales collaboration were agreed upon by Mitsubishi Heavy Industries Air Conditioning Europe, Ltd. (MHIAE), a London-based Group company that oversees MHI's air-conditioning and refrigeration (AC&R) business in Europe. The Atlantic Group, which was established in 1968, is one of the leading manufacturers of boilers for hot water supply and heating applications, heat pumps, electric water heaters etc.in Europe, with the group also marketing its products worldwide. The Atlantic Group employs approximately 5,500 members of staff across ten locations in France and a further ten agencies overseas. The Atlantic Group reported annual sales of approximately 1.35 billion Euros in the group's most recent financial statement.
Under the terms of the collaborative arrangement, Atlantic will use their extensive sales and servicing network throughout France in an effort to significantly enhance market recognition of the Q-ton, with the aim of rapidly building up a solid track record in sales. Both parties have confirmed that Yack SAS, the existing French Q-ton distributor, will continue to carry out sales and after-sales service after signing the agreement with the Atlantic Group.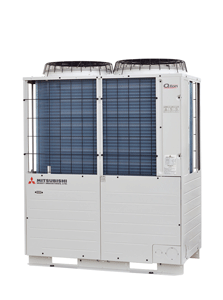 MHI claim that the Q-ton was designed to be the first heat pump water heater which can be used in ambient temperatures as low as -25°C. MHI further revealed that they had developed Q-ton as a strategic product to open up the market for heat pump water heaters in cold weather climates while, MHI claimed, simultaneously offering environmental advantages as a replacement for boilers for hot water supply or heating applications. The Q-ton system features a two-stage compressor which combines both scroll and rotary compressors. It is this innovative "two-stage compressor" configuration which is responsible for the Q-ton delivering impressive efficiency under all operating conditions while also helping to improve both performance and reliability. MHI have also stated that as a result of using CO2, which has an ozone absorption coefficient of 0 and a global warming potential (GWP) of 1, as a natural refrigerant, the Q-ton emits less CO2 than conventional gas boilers or electric hot water heaters and also ensures that running costs are relatively low, making the system ideal for use in hotels and other facilities that consume large amounts of hot water.
Ever since the conclusion of the 2015 Paris Climate Conference (COP21), there has been a concerted push to curb CO2 emissions and prevent further global warming, while other initiatives are under way, or have already been taken, to put new legal frameworks into place. The two companies are aware that industry forecasts for the coming years suggest that demand is expected to increase for heat pumps capable of providing heat or supplying hot water in an environmentally compatible way using solar-generated heat. Consequently, MHI and Atlantic came to the conclusion that the best way forward in view of this predicted growth was to co-operate and collaborate together in their marketing strategy, leading to the newly concluded agreement.
Both MHI and Atlantic hope that their recently-concluded agreement will help them to encourage synergies between their respective technological and sales capabilities in the hot water supply and heating system fields, with the aim of expanding their market share in France.